About Us
Answering The Phone For 39 Years!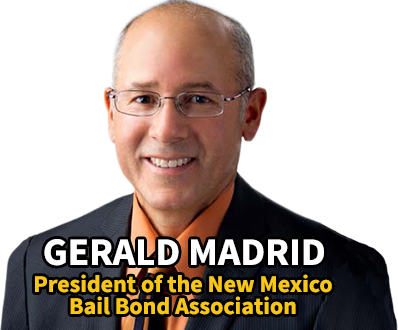 A family-owned business, Gerald Madrid Bail Bonds has served the Albuquerque, New Mexico area since 1984. Since then, we have grown to 13 employees committed to getting defendants out of jail fast. We count ourselves to be among the most successful bail bond companies in New Mexico, having bailed out more than 57,000 clients.
Our Values
We are members of the Hispano Chamber of Commerce and the Professional Bail Agents of the USA. We are committed to three values:
Leadership. At Gerald Madrid Bail Bonds, our clients receive the quality experience you expect from an industry leader. We are always evolving to meet the needs of our customers and maximize on new opportunities created in the market. In November 2013, Gerald Madrid was elected President of the New Mexico Bail Bond association.
Teamwork. We work as a team with our clients, making sure we are aware of their needs as we provide solutions to help them meet their challenges and have a successful outcome.
Customer Relations. Customer satisfaction is our highest priority. We are proud to work efficiently for our clients and go the extra mile to earn their trust.
Our employees are licensed by the New Mexico Department of Insurance. Leaders in our industry, Gerald Madrid provide pre-licensing instruction and continuing education for other bail bond agents on behalf of the New Mexico Department of Insurance.
We do this not only because it makes us the authority on bail bonds in New Mexico, but also because it provides our own employees with the opportunity to continually expand their knowledge about the bail bond process and laws in New Mexico.
Contact Us
As a family-owned business, we take personal pride in the work that we do and work hard to earn our customer's business. We always have our customer's best interests in mind as we provide affordable bail bond services and notary services in Albuquerque, NM. Contact us to speak with a bail bond agent 24 hours a day, 7 days a week.
Get Out Of Jail Now!
Although the bail bond process can be confusing, our bail bond agents are here to make it easy. Information is always free and available at Gerald Madrid Bail Bonds, so contact us any time you have questions about bail bonds, warrants or need jail information.
Failure to Appear -
What Happens When You Don't Show Up For Court?
Reviews From Our Clients
Over 50 Years Of Combined Experience