Why Choose Us!
Answering The Phone For 39 Years!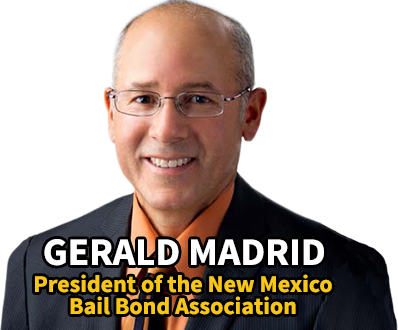 Why should you choose Gerald Madrid Bail Bonds? At Gerald Madrid Bail Bonds, we are committed to providing a positive, friendly, and informative experience for all of our clients as we work to bail them out of jail fast. Our bail bond services are affordable, reliable and we are the experts in providing felony bail bonds in Albuquerque, New Mexico.
We've been here Since 1984
We are a reliable bail bond company with the knowledge and experience to work quickly and efficiently on your case.  We understand how all of the jails in New Mexico work and are able to provide you with the most up-to-date knowledge out there.
We Offer Convenient Payment Plans
When you are trying to release a loved one from jail, you don't want to worry about coming up with a large sum of money. That's why we allow clients to put just 3% down and the rest to be paid in small amounts.
We are the Industry Leaders
Not only are all of our bail bond agents licensed by the New Mexico Department of Insurance—but we also teach for them! Gerald Madrid is committed to providing pre-licensing and continuing education for other bail agents throughout the state of New Mexico.
We want you to be Successful
Our bail agents are experienced and understanding. Because we are so familiar with local jails, we are able to provide you with personalized guidance based on your unique circumstances.
Contact Us for Affordable Bail Bonds
Gerald Madrid Bail Bonds have successfully bailed out more than 57,000 defendants since 1984. We guarantee our bail bonds will get your loved one out of jail or your money back. Contact us to speak with an Albuquerque, NM bail bond agent today.
Get Out Of Jail Now!
Although the bail bond process can be confusing, our bail bond agents are here to make it easy. Information is always free and available at Gerald Madrid Bail Bonds, so contact us any time you have questions about bail bonds, warrants or need jail information.
Failure to Appear -
What Happens When You Don't Show Up For Court?
Reviews From Our Clients
Over 50 Years Of Combined Experience